marisk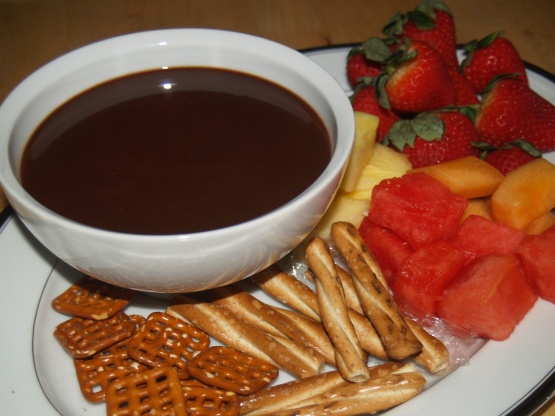 My sister made this during my visit. I'm not a chocolate lover but this was delicious! We ate it with sliced apples, bananas, strawberries, crisp cookies, pretzels, and cubed poundcake! My times are probably off as I've never prepared this myself ... just enjoyed my sister's efforts :)

This was really yummy and super easy to make. We ended up adding a bit more cream at the end to thin it out a bit and it turned out fine. Everyone loved the taste of it. We paired it with rice krispie treats, pound cake, strawberries, cheese cake, pretzels, and pineapple. So good!
In large saucepan over medium heat, combine cream and butter.
Bring to a simmer, stirring constantly.
Remove from heat.
Add morsels. Stir until melted and smooth.
Cool slightly. Then transfer to a fondue pot or ceramic bowl.
Serve immediately.
TO REHEAT: Reheat in microwave, 30 seconds, stir -- another 30 seconds, stir -- repeat until heated. Do not microwave for a longer time; you may burn the fondue.