Dark Chocolate Creme Brulee
Bev I Am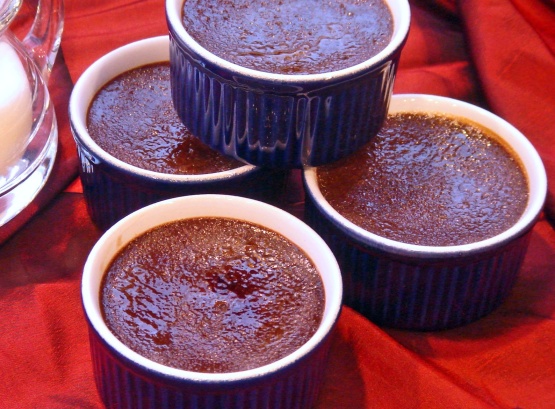 Dark and Decadent. A must for the true chocolate lover! Make a day ahead as this requires overnight chilling time - But well worth the wait! This recipe comes from the Enchantment Resort in Sedona, Arizona.

This recipe has been my "special night" dessert recipe for several years now (I'm slow to review). Love to serve it with a raspberry dessert wine. But even on its own, so wonderful! Thanks for posting
2

cups whipping cream

2

cups half-and-half

8

ounces semisweet chocolate, finely chopped

8

large egg yolks
1⁄3 cup sugar, plus

8

tablespoons sugar
Preheat oven to 300 degrees F.
Bring cream and half and half to boil in heavy sauce pan.
Reduce heat to low.
Add chocolate and whisk until melted and smooth.
Remove from heat.
Whisk yolks and 1/3 cup sugar in large bowl to blend.
Gradually whisk in hot chocolate mixture.
Strain.
Divide custard among eight 3/4-cup custard cups.
Place cups in large baking pan.
Add enough hot water to pan to come halfway up sides of cups.
Bake until custards are set, about 50 minutes.
Remove from water; chill 2 hours.
cover and refrigerate overnight.
Preheat broiler.
Sprinkle each custard with 1 tbs sugar.
Broil until sugar turns golden, watching carefully to avoid burning, about 3 minutes.
Refrigerate until custards are set, 1-2 hours.