Dark Chocolate Cherry Brownies
Leslie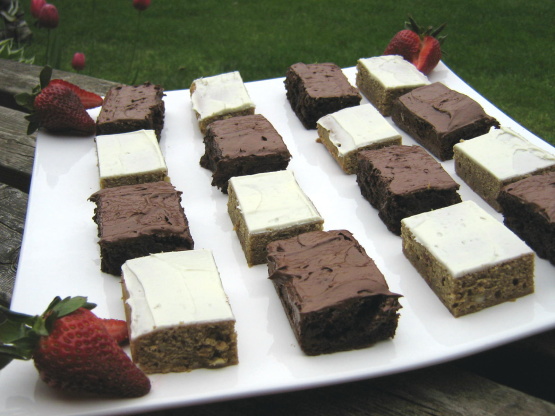 I ran across a similar brownie recipe on another forum to use as a guide - I then reduced the fat and sugar content so I wouldn't feel so guilty, but you would never know it by the taste! The cherries add a delicious surprise inside the fudgy brownies. Moreover, they are very simple to make. What's not to love? I use 60% Cocoa Ghirardelli baking chips for this recipe

Oh, these tasted so decadent. Soaked my cherries in Amaretto, and, oh my, were they good. And, of course, I had to taste one before they went into the brownies! Love this recipe, and when I'm feeling bleu, I'm sure these will help. Thnx for posting, my very helpful First Mate. Made for ZWT5 for RRR
Preheat over to 350 degrees. Butter a 8 or 9-inch square cake pan or line the bottom with parchment paper.
Melt butter in a medium sized sauceplan. Add baking chips, stirring over low heat until melted.
Remove from heat, stirring in splenda, sugar and vanilla. Beat in egg whites, two at a time.
Add the flour and stir for one minute, until batter loses its graininess and becomes smooth and glossy.
Stir in the chopped nuts, cherries and baking chips. Spread into prepared cake pan and back for 30 minutes. Cool completely before cutting.