Dark Chocolate Cake With a Raspberry Filling
Margo J.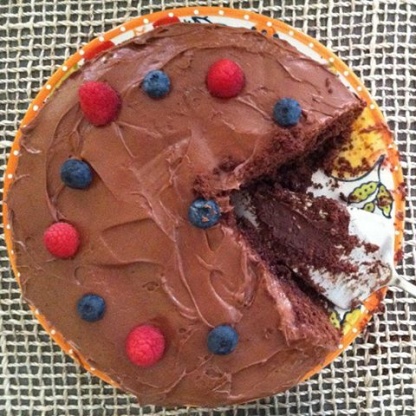 This is a fudgey, brownie-like cake with a chocolate cream cheese frosting and a sweet raspberry filling. It is decadence at its best.

I made this for my dbf's birthday and it was a huge hit! I don't usually love chocolate cake but this is more like a huge fudgy brownie with frosting. The raspberries lend a wonderful tartness to cut the sweetness of the rest of the cake. Only a couple of notes...I think 15 minutes is a little optimistic for prep time because there are three separate steps but even a novice baker can handle them one at a time. The other thing is rather funny...I'm impatient and I always want to get to the cake so I don't prepare the pans ahead of time. Don't be like me! By the time I washed and greased the pans the batter was so thick I had to play mud pies with it! It didn't effect the terrific end result but I made a mess pressing the batter in the heart shaped pans with my fingers! This is an outstanding cake if you want something different. Thanks for the great recipe!<br/>Just an update: After polishing off every last crumb of this cake we all declared this the best cake we have EVER had. If you are reading this recipe...don't hesitate to make it, you won't be sorry!<br/>Another Update: I made this as cupcakes(just the cake) for my BBF's son's wedding reception. I filled them with vanilla creme and placed a bowl of fudge frosting next to them for people who wanted it(didn't need it at all).They RAVED about it. I don't like chocolate cake, especially dark chocolate yet I have to admit that not all of them reached the reception and for some strange reason:) my dress didn't fit as well as before...good thing I made lots!
Batter: Preheat oven to 350°F.
Grease 2 9-inch cake pans, set side.
In a small microwave-safe bowl, melt the chocolate, and the tablespoon of butter in the microwave on medium (50%) heat.
In a large mixing bowl, stir together the stick of butter, the sugar, and the vanilla.
Stir in the eggs, 1 at a time until they are all incorporated.
Stir in the chocolate.
Stir in the salt and oil.
Stir in 1 1/4 cups of the flour then the 1/2 cup of milk.
Stir in the last 1 1/4 cup on flour and the baking powder.
Pour the batter evenly between the 2 cake pans and bake for 20 minutes or until a toothpick comes out clean.
Filling: In a small sauce pan, combined all of the ingredients and bring to a boil over medium-high heat; set aside to cool.
Frosting: In a medium bowl, add all of the ingredients and beat with an electric hand mixer until light and fluffy; set aside.
Cake: When the cake is done, remove it from the oven and let sit for 5 minutes.
Loosen the edges with a knife, and turn them out onto a cooling rack(s) to cool completely.
When the cakes are cool, pour the raspberry filling onto one of the cakes and then top with the other cake.
Let cake cool for a while, then spread the frosting on the top and sides.
To garnish you can place raspberries on the top and around then cake.