Dan's Prize Winning Chili
Tona C.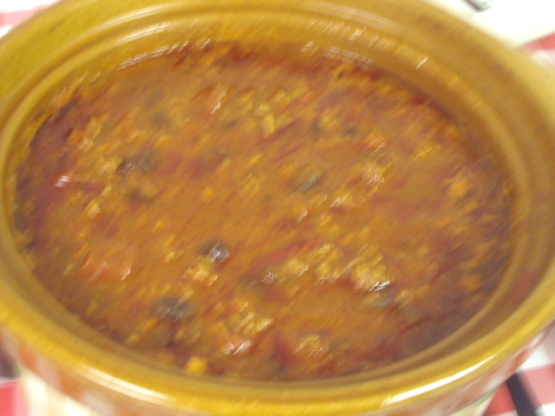 This is the recipe that won the chili cook off for Dan in 2010. Our family likes it so much that we fix a pot about once a month year round. It's just one of those foods that we get a real strong hankering for ... from the kitchen of Dan Court, Bridgeton MO.
In a skillet, brown hamburger; stir while cooking to break up into small loose pieces. Add salt. Drain grease off and set meat aside.
Using an 8 quart stock pot, combine tomato sauce, diced tomatoes, kidney beans and onion flakes.
Add half the chili powder and stir well; simmer for about 15 minutes; add drained hamburger; taste to determine if you want more chili powder. Continue to add chili powder, simmer and taste until you have obtained the desired level of spiciness.
This chili will have a thick consistency.
Continue to cook on a slow simmer for about 4 hours.
You can use a 6 quart Crock Pot, but it will be full to the brim!
Serve with oyster crackers, chopped onion, grated cheddar cheese and sour cream.