Dan's Lemon, Onion and Garlic Chicken
Pamela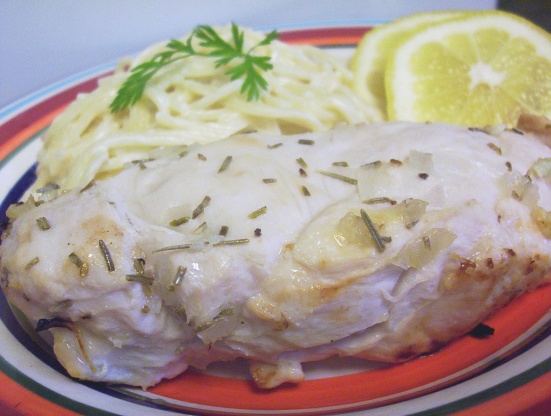 Lemon flavored chicken with with a hint of onion and garlic. Mmmm!!!
Top Review by Ilysse
Very good. I changed it to 6 servings. I left out the butter as I am on a diet. DH doesn't like rosemary so I used thyme. Used fresh garlic no garlic salt. Not sure how to crush an onion so I sliced one thin and placed it just on the bottom of the packet. I also baked in a 375F oven for about 1hour, no flipping. It was very good and I am sure I'll make it again. I served with fresh steamed green beans and Creamy Potato Salad With Lemon and Fresh Herbs Recipe #235089 It was a very good meal although next time I think I'll serve it over some sort of pasta or grain and used the juice for flavoring. Thanks for posting.
Melt butter and add the olive oil, lemon juice, rosemary, garlic salt, salt & pepper.
Take chicken breasts & marinate in mixture.
Place in the refrigerator for a minimum of 30 minutes.
Remove chicken from refrigerator.
Preheat BBQ.
Leave chicken at room temperature for 15 minutes.
Place each piece of chicken on separate piece of aluminum foil.
Cut lemon into 8 slices.
Place 2 lemon slices, 1/4 of the onions and 1/4 of the garlic under each chicken breast and then place 2 lemon slices, 1/4 of the onions and 1/4 of the garlic on top of each chicken breast.
Wrap the foil securely around each piece of chicken.
Place foiled chicken on grill and BBQ on hot coals for 8 minutes. Flip over and BBQ the other side for 8 minutes.
Ready to serve.