Dan's Favorite Supersized Southwestern Chicken Sandwich
gailanng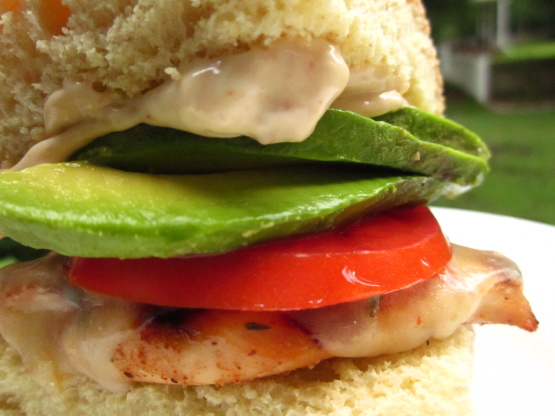 I saw Sara Moulton make this sandwich on Food Network. My friend Dan loves it and is always thrilled when I make it for him. It is a great sandwich to serve while watching football on TV. It's pretty spicy, so adjust accordingly.
Great combination of flavors. Only thing missing is a little texture like lettuce, bacon, and/or onion rings. Definitely a keeper!
Preheat oven to 350°F.
Split loaf in half lengthwise.
Blend mayo and chipotle in a food processor until smooth. Spread on both halves of ciabatta.
Layer sliced chicken, avocado, tomatoes and jack cheese on bottom half of ciabatta.
Cover with top half of loaf and wrap in foil.
Bake for 10-15 minutes or until cheese is melted.
Slice into four pieces.