Dannon Low-Fat Apple Spice Cake
Shakthi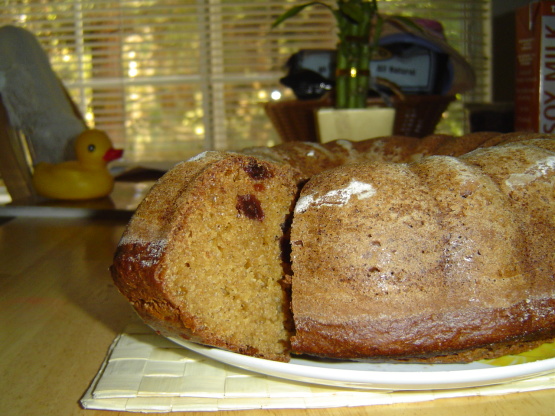 This is a great spice cake with no "guilty aftertaste"! It's good with the glaze listed or with a vanilla or lemon sauce like you make for gingerbread. It's moist enough to eat plain, too!

Very good. The flavor of the spice and apples was good. I did use 1 apple finely chopped instead of the raisins and substitued 1 cup of Splenda and 3/4 cup of brown sugar for the sugar.
In large bowl, mix flour, sugar, baking soda, baking powder, cinnamon, allspice, salt and cloves.
Add applesauce, yogurt, egg, and oil; mix well.
Stir in raisins (note: I like to soften the raisins in hot water for a few minutes before adding them-they're plumper and softer that way).
Pour into greased and floured 12-cup Bundt or 13 x 9 inch pan.
Bake at 325 F.
for 50- 60 mins, or until toothpick inserted in center comes out clean.
Cool 15 mins.
Serve with Quick Yogurt Glaze: Glaze: In small bowl, combine Dannon Plain Nonfat Yogurt, brown sugar and vanilla.
Beat with fork or whisk until smooth.
(This is also good with orange or lemon extract instead of vanilla).