Danished Glazed Mushrooms
Boomette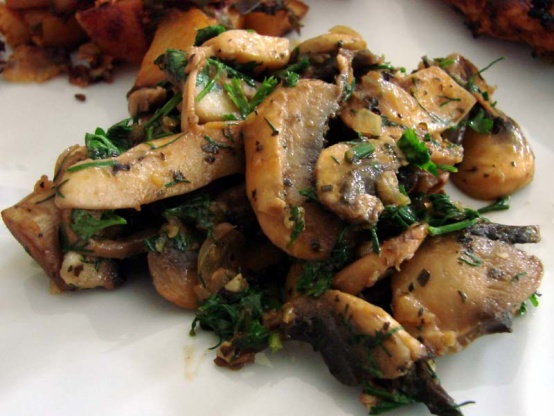 Can be served as a hot appetizer or side dish. Many reviewers have commented that they have found the herb amounts to be too much, so you may want to reduce them according to your own tastes. Originally submitted for the 2005 World Tour.

The dill and parsley both state fresh chopped, but the basil doesn't say fresh or dried. I used 1 teaspoon dried basil. While I had fresh dill, I was out of fresh parsley so I substituted the dried equivalent. They still turned out wonderful!! 5 stars hands down!! I am adding this recipe to my cookbook right now so I don't ever loose it. My family would never forgive me if I did.
Clean mushrooms removing stems.
Heat oil in a large non-stick skillet over medium heat. Stir in salt, paprika, garlic and green onion.
Increase heat, add mushrooms, sauté three to five minutes until mushrooms are glazed and coated.
Remove mushrooms from heat. Toss in parsley, dill and basil.
Serve immediately.