Bergy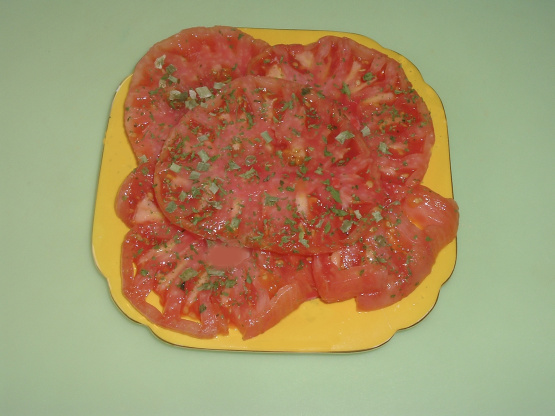 One of those great "make ahead" dishes which can accompany any meal theme for your large gatherings or simple family parties !

Top Review by Bergy
I used Brown sugar substitute, cut back a bit on it. Made them in the early AM and served them for lunch along with a mixed green salad. They had a very mellow slightly sweet flavor but the vinegar did not let it get overpowering. They were very juicy - perfect tomatoes. I used a tomato called "Brandyvine" - it is quite an ugly tomato but packed with flavor and quite meaty. I wonder where the name Danish came from? Anyhow Mini ,they are worthy to be called Danish Thanks for posting.
Peel tomatoes and cut into thick slices.
Arrange in layers in a shallow dish, sprinkling with brown sugar, vinegar,and salt.
Cover tightly and chill several hours.
Arrange slices in slightly overlapping circles on a platter and garnish with parsley or onion tops.
Surround with crisp greens, if wanted.
Makes 4 to 6 servings.