Danish Sourdough Pumpernickel
PaulaG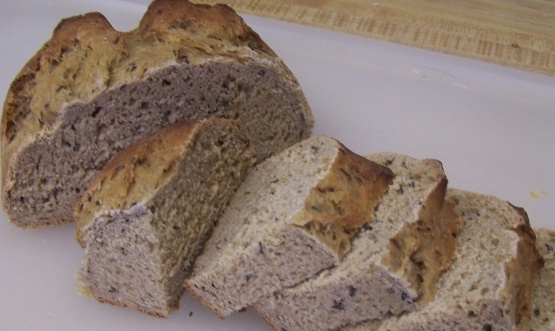 Adopted in the Great RecipeZaar Adoption of 2005. Hope to make and update soon.
Top Review by PaulaG
Some how this caught my attention the other day and I decided to make it. The ingredients list is pretty accurate. I followed the recipe through step 3 allowing the mixture to rest for about 10 hours. Then I deviated from the directions somewhat. I melted the shortening, added sorghum instead of the molasses (that was what I had), and milk, allowing this to cool to room temperature. While the mixture was cooling I softened the yeast in 1/4 cup warm water. I then mixed the flour with 1/4 powdered milk due to step 4 saying "add the molasses, dry milk..." I also mixed in about 1 tablespoon vital wheat gluten and the salt. After all this was thoroughly blended, I stirred the molasses mixture into the rye starter along with the flour and softened yeast. I think because I added the additional 1/4 cup of water to soften the yeast I required more flour than what was called for. The end result was 2 wonderful loaves of bread. The only thing I will change next time, is instead of allowing them to fully rise in the final time, I will put them in the refrigerator and allow them to sit overnight, and then allow them to come to room temperature and complete the rise. This will give a stronger sourdough flavor. Overall, it is a winner.
Pour boiling coffee over chopped caraway seeds.
Let the mixture cool and then add it to the rye flour and starter which have previously been mixed well.
Let stand for 4 to 8 hours in a warm place, preferabley overnight.
Then add the molasses, dry milk, salt, shortening,liquid milk, unbleached flour and yeast.
Mix well.
Cover the bowl and let rise to double.
Then knead on floured board and shape into two round loaves on baking sheet.
Let rise until double again and bake at 350 degrees for 30 minutes or until done.