Danish Macaroni Salad With Ham
Annacia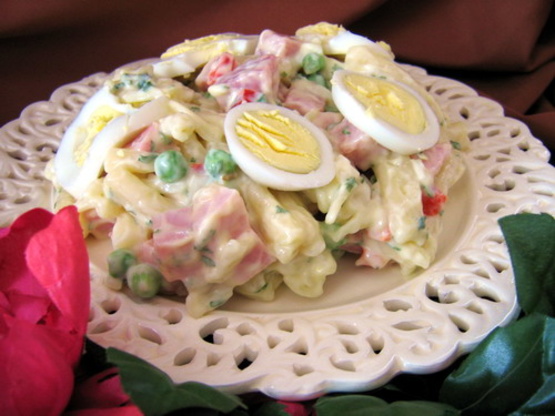 This salad is from Sonia Uvezian's "The Book of Salads". It looks delicious, although I've not tried it and am posting it for ZWT3.

This made a lovely summer supper dish. As it served as the meal I added a few peas to boost the veggie content a bit. I trimmed the fat by using fat free sour cream and low fat/cholesterol free mayo. It holds very well in the fridge and, of course, tastes even better after a good chill.
Cook the macaroni al dente as directed on the package. Drain well and set aside to cool.
In a salad bowl mash the yolks of two of the eggs, reserving the egg whites for another use.
Add the mustard and salt to the yolks.
Gradually mix in the mayonnaise, the fold in the sour cream.
Add the pimiento, ham and cooled macaroni, toss gently but thoroughly.
Taste and adjust the seasoning.
Cover and chill at least one hour.
Slice the remaining 2 eggs into rounds.
Place the eggs rounds decoratively on the top of the salad and sprinkle with the parsley or dill.