Ambervim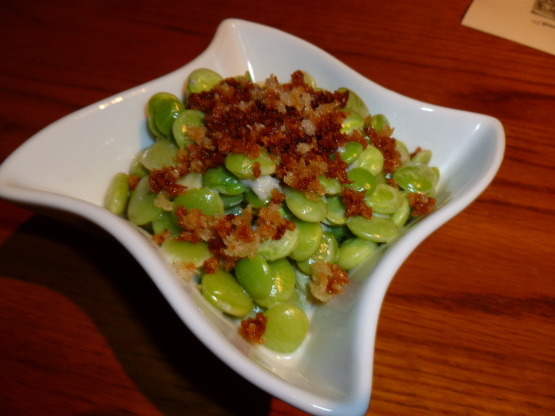 I use frozen baby limas. They have a light bleu cheese flavor with a crunchy topping.

Top Review by Bergy
I have had this recipe in my "TO DO" pile for ages and finally made it. I am sorry I waited so long, Delicious. The Blue cheese compliments the lima beans. I was a bit skimpy with the buttered crumbs (I cut back from the recipe ) Next time I will listen to you! Thanks Miss Annie for a great Lima Bean recipe
Cook beans according to package directions, but don't add the salt.
When beans are tender, drain.
In small saucepan, heat milk and blue cheese, stirring until cheese is melted.
Add beans and keep warm.
Melt butter in small skillet; add bread crumbs and stir over medium heat until bread crumbs are golden brown.
Sprinkle bread crumbs over beans and serve immediately.