Danish Gravlaks (lox) Cured Salmon
Bergy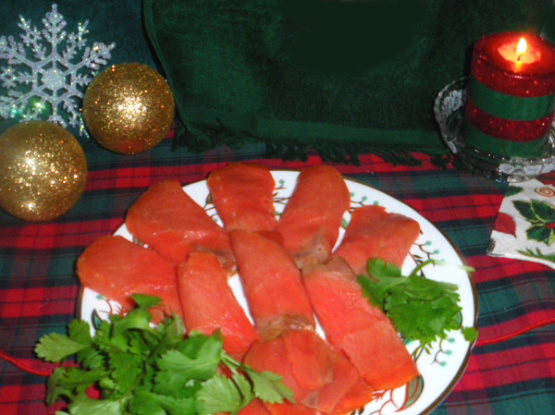 This is traditionally part of any Danish Smorgaasbord., Also wonderful for any recipe calling for Lox - appetizers etc. The wine and cognac cures the raw salmon. This cannot be compared to smoked salmon the process is very different nor do I recommend grilling it. It is ready after curing sliced very thinly. It is wonderfull on a bagel with cream cheese, chopped sweet onion , capers and served with scrambled eggs.

Well, I did it. I had a salmon fillet about ¾ lb, so I proportioned ingredients to that. I had already taken the skin off, so that may be a factor. It sat for 72hrs in refrigerator. It does cut well, to a point, and I took the last ½ inch and put in on the grill, after I had taken chicken for some Southwest grilled chicken off. Anyhow, this is good, not quite what I expected…more time maybe? More wine and cognac? I like the idea, but not as much as I like smoked lox, or grilled salmon.
Combine the sugar, salt sprinkle on to the flesh side of the salmon.
Cover loosely with fresh dill sprigs, press spices and dill into salmon.
In a glass or ceramic shallow dish, just large enough to hold the salmon mix the cognac& wine.
Place the salmon skin side up into the dish.
Cover the dish loosely with plastic wrap and place a board the size to the salmon on top, weight it with apprx a 2-3 lb weight, tighten the plastic wrap Place in fridge and allow to marinate for 3-4 days.
Transfer salmon to a cutting board and cut the salmon horizontally into thin slices.