Mandy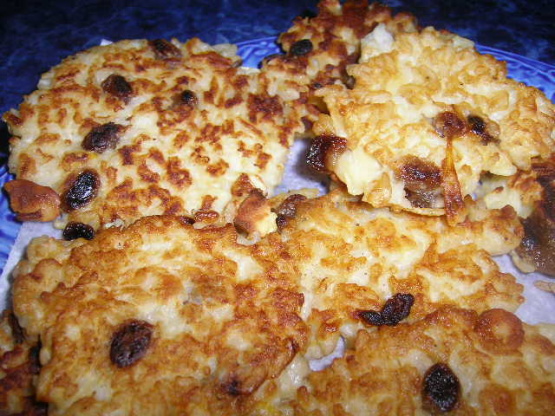 These tasty little morsels are similar to a pikelet or flapjack and a fantastic use for leftover rice. My 19 month old daughter likes these with cream cheese but they are also good with jam or honey. Would make a great healthy lunchbox treat too!

Really tasty and a great use for leftover rice. I love the combo of powdered sugar and lemon on these. Can't wait to make them again! I used a little less raisins (personal preference, I don't care for raisins and may try for dry cherries or cranberries next try). **Made for March 2008 Beverage Tag**
Mix together all ingredients except icing sugar & jam.
Fry tablespoons of the mixture in butter until lightly browned on one side then flip and cook other side.
Drain on absorbent paper.
Sprinkle with icing sugar & serve with jam.