Danish Delights - Any Fruit, Pie Filling or Almond
Ambervim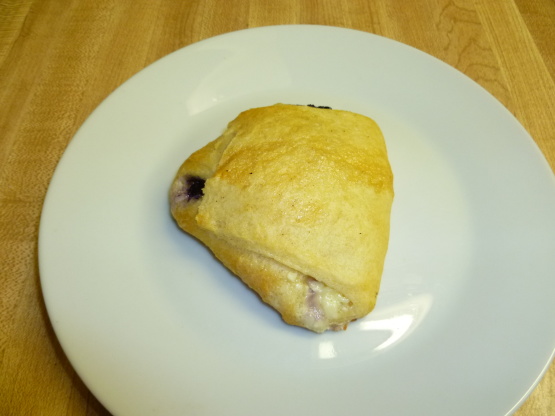 This is a modified Meduri Farms recipes from Smart Cooking the Costco Way. I prefer fresh fruit, this recipe calls for dried. Just be aware that if you use fresh, there will be juice escape from the fruit during cooking. I later further modified it to allow for pie filling, almond paste or jam.
113.39

g cream cheese, room temp

59.14

ml cottage cheese (optional)

59.14

ml sugar (More if you have a real sweet tooth or 1/4 cup Splenda)

1

small egg (if large, beat and just add half or double the recipe)

2.46

ml lemon peel, grated

4.92

ml lemon juice

118.29

ml dried fruit (go juicy and try fresh or use pie filling or jam) or 118.29 ml almond paste (go juicy and try fresh or use pie filling or jam)

1

batch crescent roll (Crescent Rolls without the kosher salt and caraway or roll Pillsbury seamless)

118.29

ml confectioners' sugar

7.39

ml milk

7.39

ml butter, soft
nuts (to garnish)
Beat cream cheese, cottage cheese (if using) and sugar until smooth in a mixer. Add egg, lemon peel, lemon juice and vanilla. Beat until well blended.
If using dried fruit, fold it into the cream cheese mixture. If using fresh fruit, jam or pie filling, hold it aside.
If using Pillsbury rolls, open crescent rolls. Do not unroll, just slice into 8 pieces. If you made your own, shape into 8 rounds.
Place on silpat. Press in the center to make a depression for the cream cheese and fruit/filling or jam.
Place 1/8th of the mixture in the center of each. If using fresh fruit, pie filling or jam, spoon some on top of that in the center of each.
If using nuts, sprinkle on top now.
Bake for 15-20 minutes or until golden brown.
Remove fro oven and place on a cooling rack for about 15 minutes.
Mix butter and confectioners' sugar. Then add milk and mix to make icing.
Drizzle over each danish.