Danish Christmas Rice Pudding With Almonds and Warm Cherry Sauce
BecR2400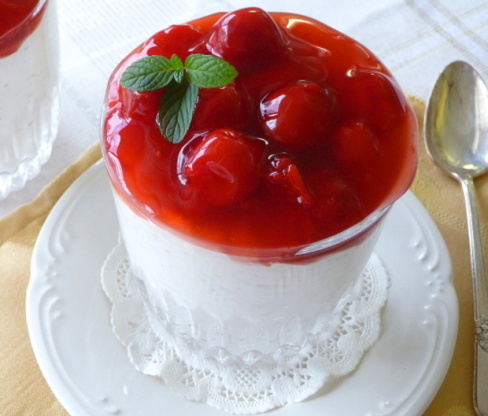 Danish Christmas rice pudding with warm cherry sauce or Risalamande is traditionally served on Christmas Eve. Whoever finds the hidden almond receives a small gift. I like this recipe because it is cooked entirely on the stove top and cooks in one hour, rather than in the oven for two hours or more. Can be made in advance and refrigerated until serving time. The Danes often buy a store bought cherry sauce, but I've included a recipe for home-made. :) Adapted from an online source.

Doris C, the secret to this recipe is time. While this is a different cooking method than I use to make risalamande for my Danish husband, in essence you have to cook until it's thick, however long that takes. My sister in law and I have made it in a slow cooker, a microwave, and over the stove, and it takes several hours no matter what method we use (but the slow cooker and microwave enable you to not stir the entire time, as this method does also). The result is absolutely worth the effort, though!
Split half of the vanilla pod length ways, scrape out the seeds.
Place the milk and vanilla in a heavy-bottomed pan. Bring to a boil.
Reduce the heat. Add the rice gradually, stirring constantly.
Increase the heat and bring to a boil again.
When the milk boils, reduce the heat, cover and simmer on a very low heat for about 1 hour or until the rice is cooked. Stir from time to time, making sure that the rice doesn't stick too much to the bottom.
Leave to cool completely.
Whip the cream together with sugar. Fold the whipped cream and almonds into the rice. You can add more sugar or more almonds if you wish. Serve with warm cherry sauce.
Now make the cherry sauce. Place the cherries in a medium saucepan. Add sugar and 1 1/2 cups water. Add the vanilla pod. Simmer until the cherries are tender.
Combine the potato starch with 2 tablespoons cold water.
Bring the cherries to a boil. Remove the vanilla pod from the pot. Reduce the heat, and , stirring constantly, slowly pour the water with the starch. Simmer for a few minutes until the sauce thickens slightly.
Stir in the lemon juice and serve warm over the rice pudding. Garnish with a fresh mint leaf, if desired.
* I used frozen sour cherries in this recipe, but regular sweet cherries should work as well.