Paula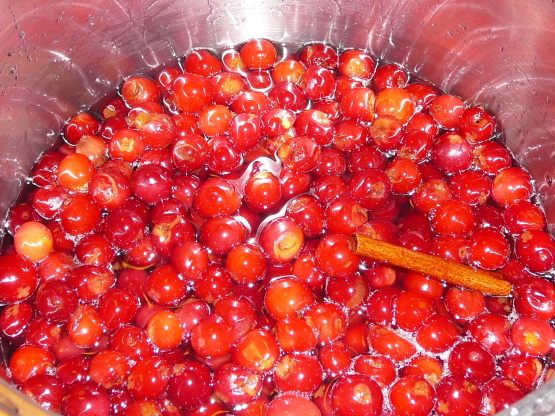 When cherry season hits, this one is worth preserving. Great for cheesecakes or ice cream topping.

Top Review by Paula
This sauce is fabulous! I've made this many times over the past few years and just today realized that I hadn't reviewed it! So easy to make and my family really enjoys it! In addition to the uses that you mention, we enjoy it over pancakes. I've also used it in coffee cakes, too!
Wash and pit cherries (if you don't have a pitter, a sturdy straw works).
In a large saucepan combine sugar, cinnamon sticks, almond extract, water and corn syrup.
Over medium high heat bring to a boil, stirring often to prevent scorching.
Reduce heat to a simmer and add cherries.
Simmer for 5 minutes.
Remove cinnamon sticks.
Ladle hot sauce into hot sterile jars, leaving 1/2 inch head space.
Wipe rims and adjust 2 piece caps.
Process 10 minutes in a boiling water canner.
**To thicken sauce for serving, combine 1 T cornstarch and 2 T's water in a medium saucepan.
Whisk well to remove any lumps.
Add 1 pint Danish Cherry Sauce and bring to a boil, cooking until sauce reaches desired thickness.