Leslie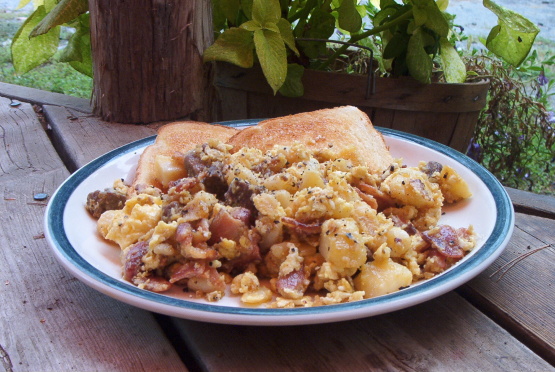 The rough translation of this dish means "scrambled food" and is a great dish to use up leftovers from the night before. We have had this for breakfast as well as supper. Serve with ketchup, HP sauce and toast.

Excellent recipe. Since I cooked the bacon fresh, I used the bacon grease in place of much of the butter. We decided we didn't even need the eggs with so much other yumminess. Great flavor, using our leftover pot roast and baked potatoes. Thanks!
Chop onions finely and dice meat and potatoes into 1 inch cubes.
Heat a third of the oil or butter in frying pan.
Brown the meat until golden brown and remove meat from pan.
Add another third of the oil or butter and brown the potatoes at high heat until they are golden and crispy on the outside. Remove potatoes from pan.
Add the remaining oil or butter to pan and cook the onions until clear.
Add meat, bacon, chives and potatoes to pan.
and heat through.
Season with salt, pepper and Worcestershire sauce.
Fry the eggs in butter, sunny side up and place on top of meat mixture.
(You can also scramble the eggs and mix all together).
Top all of this with the grated cheddar and serve hot.