JustJanS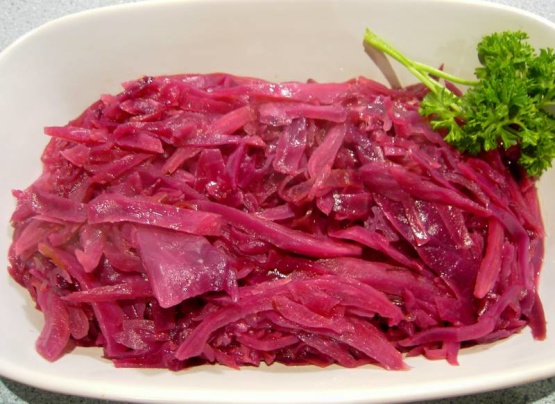 This red cabbage recipe is a tangy addition to meals, and it's quite easy to prepare. Note that the flavor deepens and improves if you prepare the dish a day ahead, refrigerate it, and then reheat it on the stove or in a 325-degree oven before serving.

This got a big "High-Five" from my Thanksgiving guests (I never hesitate to use them as guinnea pigs!!). My just-turned-21 yr. old nephew even asked me for the recipe and took the left-overs home with him. I usually make a sweet-and-sour German red cabbage dish, but I didn't have bacon, wasn't going to run back to the store AGAIN, etc, and then I found this recipe. I used green cabbage, and it might not be as pretty, but it sure went fast.
Preheat oven to 325 degrees.
Wash cabbage, remove outer leaves, and cut in half lengthwise; remove core; slice or chop fine, using a knife or food processor.
In a heavy 4- or 5-quart casserole, combine butter, sugar, salt, water, and vinegar.
Bring to a boil on the stove; add cabbage and toss well to coat.
Bring to a boil; cover casserole, and place in oven.
Bake for 2 hours.
Check occasionally and add some water if all the liquid has cooked away.
Ten minutes before cooking is finished, stir in jelly and apple; replace cover.