michEgan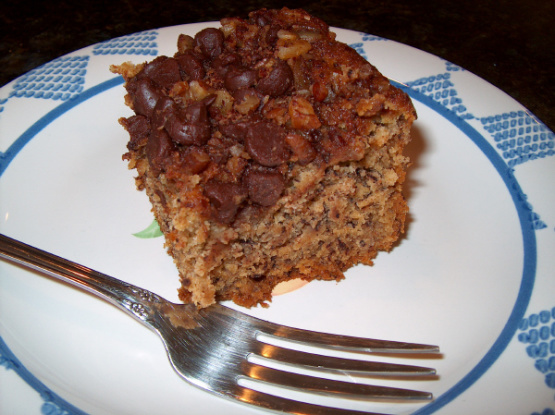 My children did not like banana bread and I found that recipe in a small magazine, I tried it. They love it so much that when I make it I cannot keep it for long. It is very tasty. It is now the only banana cake I make.

Made exactly as directed and this is delicious with a delightfully fluffy texture. A great way to use up a bunch of old bananas.
Cake: grease a mold 9 X 13 (some flour too), beat together the butter and sugar
Add the eggs and beat
Add vanilla and the mashed bananas
In another bowl mix the flour, baking powder and baking soda. Alterning with the sour cream add the dry ingredients to the first part.
Pour into the mold and add on top the cinnamon, brown sugar, chipits and nuts. (I don't measure it, I sprinkle them over the cake); Cook 50 to 60 minutes at 350 degree F.