Nimz1466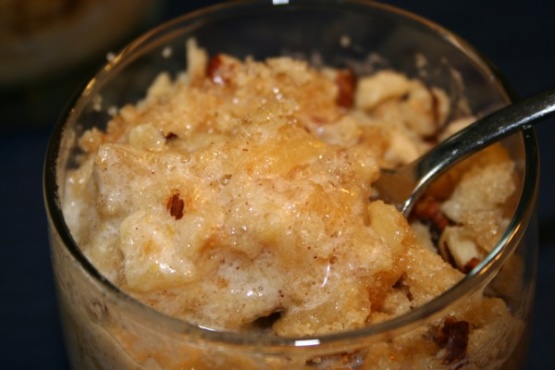 A flavoursome Danish apple pudding with hazelnuts, honey and lemon. This dessert can be made well ahead of serving time as it is served chilled. Hazelnuts although high in fat contain mostly monosaturated fat which helps to lower levels of blood cholesterol in the body. I found this recipe on an International Masters '1001 recipes for pan or wok' card.

This was a very nice and light desert. I think my lemon was too juicy because this came out very tart. I did add just a touch of cinnimon to the apple mixture. I'm not sure I got the conversions right, but it all turned out well. We shared one this afternoon for a snack. Thanks Bluemoon for another great recipe.
Put the breadcrumbs and demerara sugar in a heavy-based non-stick pan and cook gently for 3-4 minutes, stirring constantly, until dark golden; transfer to a bowl, stir in the hazelnuts and set aside.
Peel, core and slice the apples, grate the lemon rind and juice the lemon.
Add the apples, honey, lemon juice and rind to a pan and cook gently for 10 minutes, breaking up the apples with a wooden spoon, until they are soft and pulpy.
Using a wooden spoon, beat the apples into a thick purée and set aside to cool.
Whik the caster sugar and egg white until stiff and fold into the cooled apple purée.
Spoon half the apple mixture into 4 glass bowls, top with the breadcrumb mixture, and repeat the layers, finishing with a layer of breadcrumbs and nuts.
Serve chilled.
For variation: fold 150ml (5 fluid ounces) of cream and a tablespoon of brandy - or a liqueur of your choice - into the apple mixture.