Boomette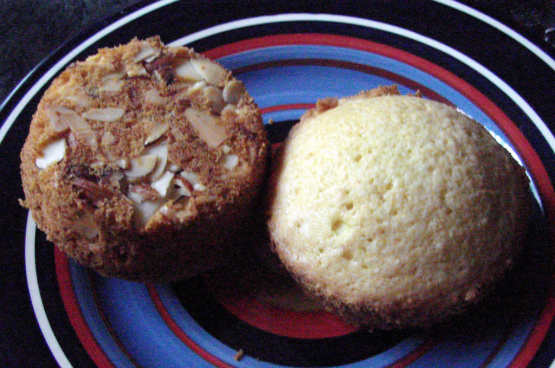 Denmark has a reputation for being a great place for dessert lovers, especially almond lovers. That's because they're grown right there! You can serve this with dollops of whipped cream or a dusting of confectioners' sugar. Posted for ZWT 6.
I wanted to do the whole recipe but I got only 1/4 cup of blanched almond, finely ground. So I had to do half recipe. And I used a 6-large muffin pan. Which gave me 6 normal size muffins. In the bottom, I used sliced almonds, unblanched. I used a little bit less sugar. They are a bit dry but the taste is too give to give less than 5 stars LOL I baked them in the middle of oven for 30 minutes. I used 2 eggs as it's hard to take 1 1/2 eggs LOL. Thanks Jackie :) Made for the Zwizzle Chicks of ZWT
Preheat the oven to 325 degrees. In a large bowl, beat the butter and sugar until soft and fluffy. Gradually beat in the eggs, one at a time, until a fine mixture forms, about 1-2 minutes. Add the finely ground almonds, almond extract, and cinnamon and mix thoroughly. Blend in the flour and baking powder.
Sprinkle the coarsely chopped almonds into a 9x5-inch loaf pan that has been sprayed with nonstick cooking spray. Spoon the batter over the almonds and bake for 55-60 minutes or until a wooden toothpick inserted in the center comes out clean.