Danielle's Spinach Squares
Nimz1466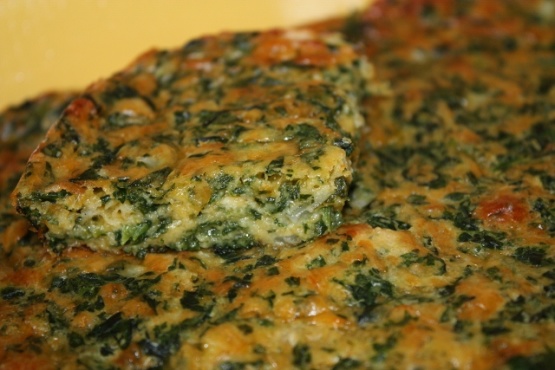 A good friend of mine gave me this wonderful recipe. She told me that every time she made these for a party everyone would demand the recipe with their mouths' full! On my end, every time there's some kind of pot-luck around everyone requests that I bring this dish. Prep time does not include defrost time.

I can see why this recipe is popular at potlucks. The recipe is cheesy, green goodness on a plate! I used frozen spinach & much appreciated the tip on saving the liquid. I can hardly wait to try it with rice. Thank you for sharing the recipe. Discovered during Spring 2012 PAC.
Defrost and drain the spinach. Thoroughly squeeze handfuls to remove the liquid. Reserve for another use if desired. The water leftover from this is great for cooking pasta or rice!
Preheat oven to 350 degrees.
Mix drained spinach with all remaining ingredients except cooking spray.
Spray a 9x2x13 baking pan with cooking spray. Bake for 30 - 40 minutes until top is nicely browned. Let cool and cut into squares.
My favorite way to have leftover spinach squares is to cut one up into small pieces and use it as omelet filling. Yummy!
Cut into 24 squares for hors d'oeuvres.