Dangerously Delicious Microwave Chocolate Pudding for One!
Boomette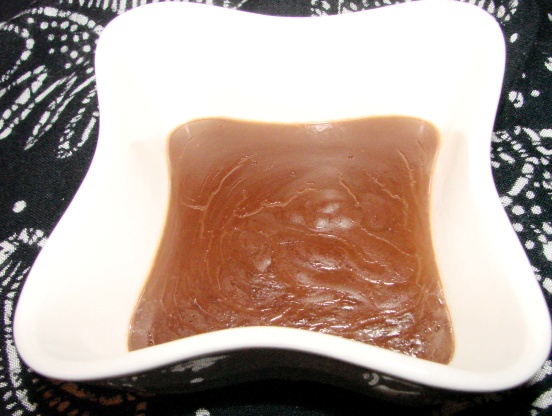 In the mood for chocolate....this is quick and delicious. I love it warm right out of the microwave.

This is a very good recipe however it is very sweet.
I would recommend that after the first 40 seconds you put in slices of bananas. It adds a nice flavor and the warm banana sections are really good!

Or in the start add in 1/4 cup of peanut butter! Just a few suggestions.

Also if you're making it for 2 servings.
Put it in for about 1 1/2 minutes at the start and then another minute and a half to thicken and go up by intervals of 30 seconds! Just some helpful hints!
Mix together milk, salt and cornstarch in microwave safe bowl.
Stir in chocolate chips.
Put in microwave uncovered for 40 seconds on HIGH.
Stir until chips are well melted& blended.
Heat another 30 seconds.
Keep a close eye on it so it doesn't bubble over.
At this point if it has not thickened, (will depend on wattage of microwave) keep going for 20 seconds intervals, stirring between each one until thickened.
Do keep an eye on it at all times.
Eat it right away (which is the way I like it) or let it cool.