Dangerous Chocolate Chip Cookies
2Bleu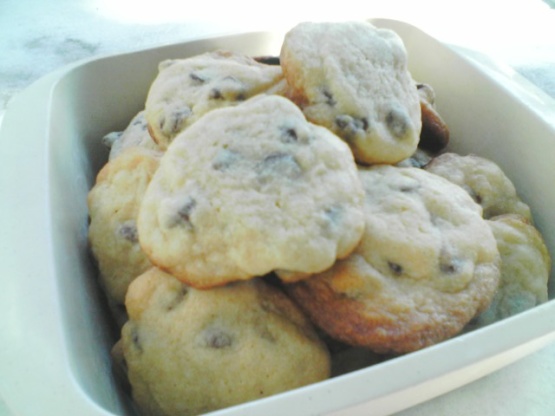 These cookies are dangerously good with directions for every taste, be it thin and crispy, soft and chewy, or cakey-like. I never can make enough of these; they certainly don't make it until the next day unless I hide them.

absolutely the worst recipe for chocolate chip cookies I've ever tried! I should have listened to my little voice which questioned the amount of vanilla in this recipe. It gave them a really wierd taste. (I use real vanilla, not artificial) The recipe as is, is supposed to produce a crisp/chewy cookie. They were very cake like, too sweet, even though I put in only 1 cup of chips. The ratio of flour and sugar to the butter is way off. They are now in the trash...
Cream together sugars and butter.
Add eggs, vanilla and mix well.
Add dry ingredients to the butter mixture except the chips and mix until well combined.
Add chocolate chips and mix just until incorporated.
Bake at 350 for approximately 10 minutes (ovens vary). Cookies should be browned around the edges but not set in the center. Let cool and when hardened remove from pan.
If you desire a thinner cookie use less flour, if you prefer a denser cookie simply increase the flour by 1/4 cup.