Kim D.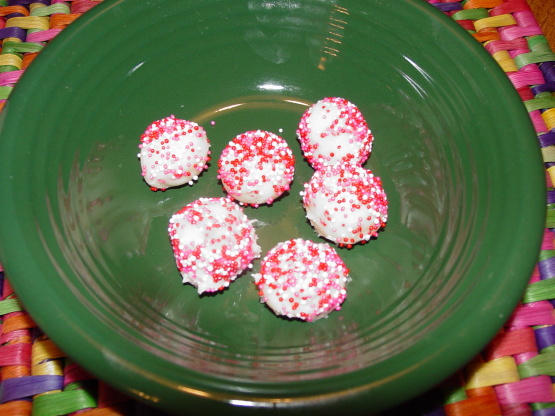 When I came across this recipe in my recipe box I just had to post it because it brought back childhood memories! My sister loved to make this candy when she was little! The recipe came from a 1976 child's cookbook. It is a no-cook candy that is very simple and kids love it! Prep time includes 1 hour to chill. (I guessed on the servings)
I too had that little yellow cookbook. With strawberries falling into a bowl on the front. Taught you how to set a table. This recipe was the first thing I ever made by myself. WAYYY too sweet for me now. But oh the memories of me and my grandma in the kitchen. :D
In a mixing bowl, coat the bowl with butter, then leave the remaining butter in the bowl.
Add corn syrup, vanilla and salt to the bowl.
Stir and mix well.
Add powdered sugar.
Stir and mix well.
Remove mixture from mixing bowl and place on a clean counter top or cutting board.
Pound, squeeze and roll candy until it feels smooth.
Roll candy into small balls, about the size of a walnut.
Roll the balls in a bowl of sprinkles.
Place on a plate, cover with plastic wrap and refrigerate.
The candy tastes best when cold!