Prose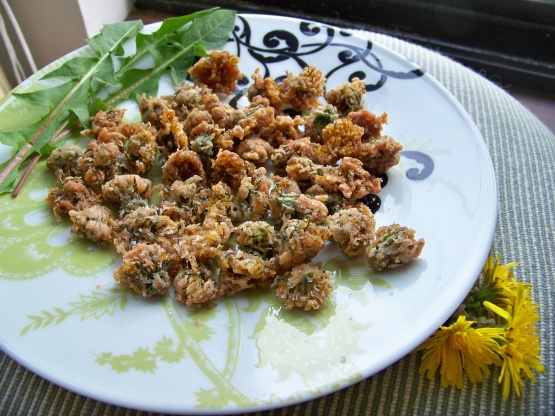 Close your eyes and pop one of these crisp goodies into your mouth. Would you believe it was a dandelion and not a fried mushroom? I have given two ways to batter these mushroom, take your pick!

Top Review by Prose
Delicious! I wouldn't believe they are mushrooms, but they have their own delectable qualities. They are very light and crispy with a slightly bitter (but not in a bad way) aftertaste. I used option #1 and made it vegan by frying them in vegetable oil instead of butter. I enjoyed them with a side of fresh dandelion greens and homemade honey-mustard dressing. It was super, super easy, and I recently learned that all parts of the dandelion are very nutritious. Since I have an ample supply of them, I will be enjoying them all summer! Who says they're weeds? Made as a recipenap for Veg*an Swap, April 2010.
15

dandelion flowers, rinsed in water, but still slightly moist
1⁄2 cup flour

2

tablespoons butter

Optonal Batter

1

egg
1⁄4-1⁄3 cup milk (depending on what thickness you like)
1⁄2 cup flour
Dredge the moist flowers in flour.
Heat the butter in a heavy frying pan.
Add flowers and fry quickly, turning to brown all sides.
*Batter Version*:.
If using batter version, dip the flowers into the batter and fry till golden brown.
Serve hot.
Enjoy!