Rita1652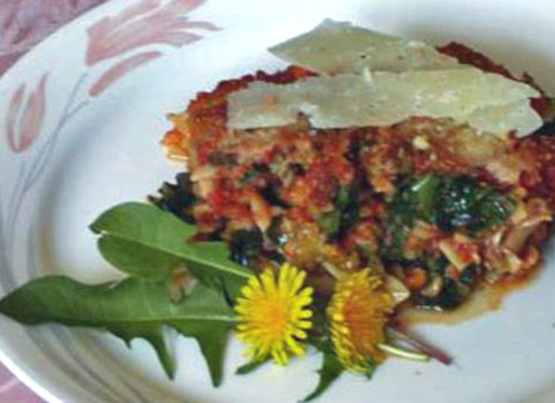 It seems like a lot of greens but they cook down to almost nothing.And if you want you can replace the dandelion with spinach. I use hot sausage which gives this a real kick, but if you rather go for mild or just use chopped beef.

I started with what seemed like WAY too many greens, but in the end it cooked down and became 'just right.' I think one key to this recipe is the sausage... make sure you use a sausage you like. The one I picked up at the store was questionable, and really cast an odd flavor over the whole dish. The rest of my family didn't like it much, for which I mostly blame the meat. Also, I went on the low side with the sauce, using only about 3 cups originally, and the dish came out really dry. Part of the dryness was my noodles... I used whole wheat egg noodles and cooked them al dente; I think they still had some moisture to absorb. We ate the 2nd half as leftovers, and I added an entire 3c. can of pizza sauce to the leftovers. Then the liquid level came out about right. To recap: Lots of dandelion, be sure you like your sausage, don't undercook your noodles, and err towards the high side with the tomato sauce. Overall quite good, and I will probably experiment with this some more. One thing I liked was that, as it was baking, it evinced a wonderful buttery aroma. I think that must have been from the dandelion, as I haven't experienced it from any of the other ingredients in the past.
Blanch greens for 3 minutes and set aside.
Brown meats, onion and garlic, add bread crumbs, parsley, dried herbs, salt, pepper, egg, and milk.
Squeeze dandelion greens of all moisture.
In a buttered casserole alternate layers of dandelions, pasta, crumbled browned meat mixture and tomato sauce.
Top with cheese and bake 350 degrees for 20-30 minutes.
Garnish with hot pepper flakes and Parmesan cheese and serve with crisp fresh bread.