Brenda.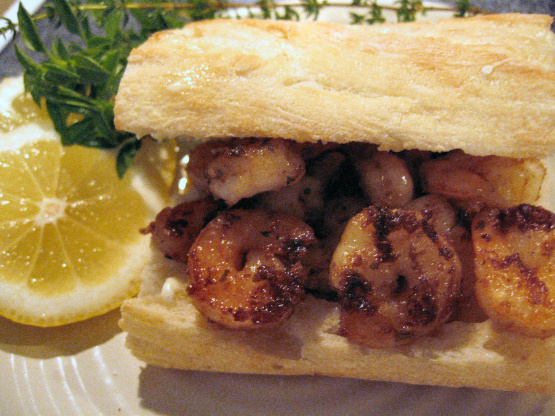 This panini dances with flavor, it takes the idea of a po boy and marries it with grilled scampi. thanks for catching the missing lemon juice in the instructions.

MMMMMMmmmm !!!Great lunch here !!! Left out the hot sauce though. Made on our panimi grill. Very quick , and filling. Easy and delicious. Made for Gimme 5.
Hollow out most of the bread from the baguette.
Melt butter in cast iron skillet.
Add garlic, lemon juice, hot sauce if using and parsley,.
As soon as butter foams add the shrimp.
Cook shrimp for 5 minutes or until done,hopefully blackening the shrimp in the sauce.
Fill the baguette with the shrimp and sauce.
If using as a panini, place in a panini grill. If using as a po'boy eat it as it is.
Enjoy with lots of napkins.