lazyme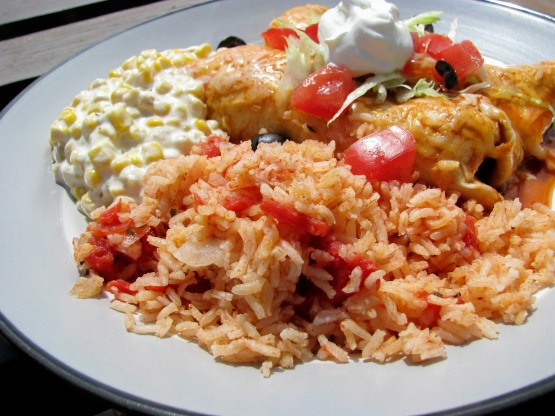 My friend Courtney gave me this recipe - it's great with chicken enchiladas. Her in-laws used to own a Mexican restaurant and this was their recipe for rice. Delicious!

Made this as written only cutting it in half....We still had a lot of rice for all of us! I did add a little more tomato sauce but other followed the instructions. Served with your recipe#426147#426147, recipe#363152#363152 and a green salad. A wonderful dinner...Thank you. Made for Spring PAC 2013.
In a stock pot, melt Crisco. Brown 4 cups rice stirring with wooden spoon.
Add diced tomatoes & diced onions (will sizzle.) Stir on high heat for three minutes.
Add water mixture and boil for one minute. Turn heat to low and cover pot with a damp dishcloth. Place lid over dishcloth. Cook on low for 38-40 minutes.