Dana's Orzo & Pepper Pasta Salad
Calee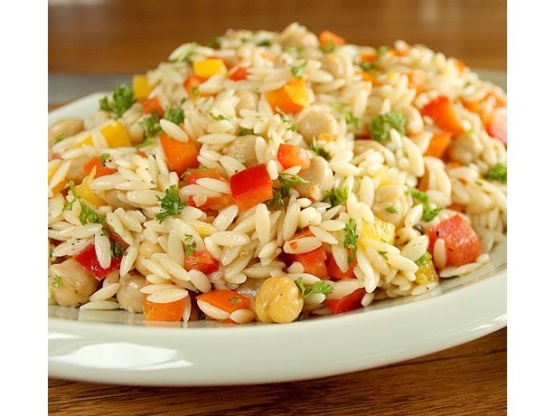 My mom and I created this recipe and people rant and rave over it. You can use any pepper variation you choose too, I use all 3 for color presentation. I also use a garlic expression dressing but Italian dressing works just as well.

Top Review by Calee
Great summertime salad It has all the flavors well love. I buy orzo pasta in bulk and measured 16 oz and cooked it for 8 minutes. I used yellow, red and orange peppers, also only added a large can of garbanzo beans no kidney and about 1/2 of a cup of chopped fresh parsley. For the Italian dressing I used kraft signature Tuscan Italian. I did add salt and alot of pepper. I think that as written it is a good salad next time I would like to add artichoke hearts to it as well. Made for the Summer Salad Snapshots in the cooking photo forum. Thanks for sharing this recipe. One I will be making again.
Prepare orzo pasta as recommended on box, rinse real well.
Clean and chop peppers real well.
Combine all ingredients mix well, and sprinkle with fresh parsley.
Let chill and serve.