Dalmatian Salted Anchovy Salad
nitko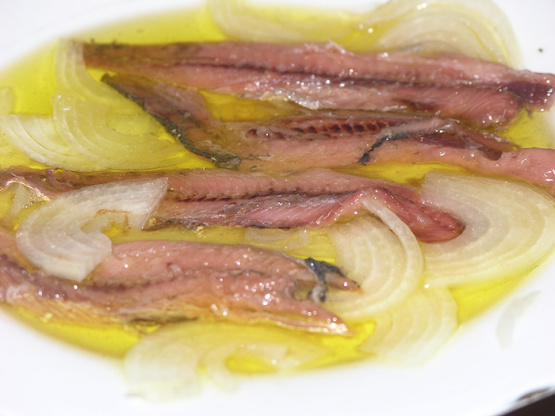 This meal is very old, probably from Greek and Roman times 2000 years ago. We in Croatia are very lucky because we can buy salted anchovies from direct producers who make these salted anchovies the same way old Romans did. And I must say, these home made salted anchovies are much, much better than grocery-stores one. Beside anchovy we also salt "srdela" a.k.a. sardine. Srdela is "heavier" to eat, and more cleaning work. It is very salty meal and a person should not eat more than three salted anchovies per day (that's 6 fillets). This is how we prepare this meal in Dalmatia.
Clean the anchovies from salt and cut into fillets (skip this if you use canned fish).
Cut onion across into very thin rounds. Put first onion, cover with fillets and sparkle with oregano (and capers). Pour olive oil and vinegar, mix a bit and wait 30 minutes so fillets and onion soak with oil.
Serve with a lot of bread and wine. After 2-3 hours you will be very thirsty so prepare a lot of drinking water or "bevanda" (that is half wine half water), usual drink in Dalmatia.