Dale's Peppy Deviled Eggs
Rita1652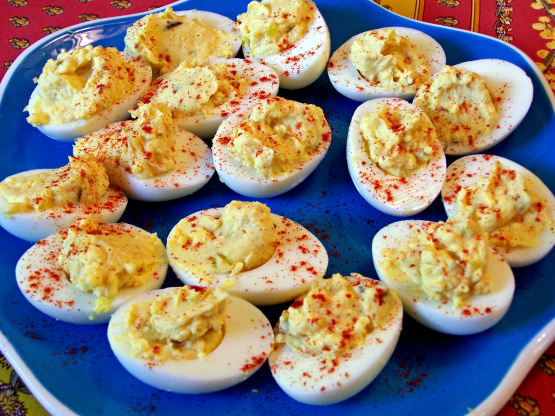 These are a must-have at all of our family get-togethers. They have a little added kick! Quick and easy recipe that will have them asking for more! My little nephew loves these so, I've re-named them after him. :)
Once eggs have cooled, slice in half and place yolks in a medium bowl.
Using a fork, smash yolks until no lumps remain.
Add mayonnaise, mustard, relish, and horseradish.
Mix well, adjusting ingredients to taste.
Add salt and pepper if necessary.
Spoon mixture into eggs.
(Or, for a fancier presentation, spoon mixture into pastry bag and pipe into eggs) Garnish with paprika or olive slices.
Serve immediately or chill for later!