3 Reviews
We loved this dal recipe very much -- it is sooo delicious over rice. I had such a rushed day that I was unable to make the naan, but I promise to do so very soon as I will be making this dish again many times over. Made for the Best of 2014 tag game.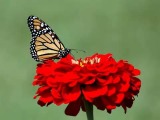 Mmmmm, I loved the dal, and the naan was some of the best I've ever made. This deserves five stars for the naan alone- I will be making it a lot in the future! Thanks for sharing.
I didn't make the naan but loved the dal! My Indian bf says its the best I've made. However, we found we actually liked it better before the milk was added.

Dal Nirvana & Naan