katia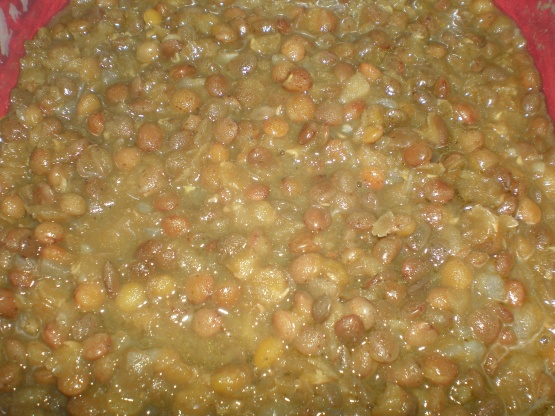 A filling and flavourful side dish with an easy ingredient list...I love it. Keeps well, reheats well.

I really loved this, I used the whole recipe and followed the measurements, but added three ingredients from another recipe and I think it turned out beautifully! I added 1 cinnamon stick and a bay leaf. When it was almost finished cooking I added a squeeze of lemon.
Heat oil in a large saucepan over medium-low heat. Add onion and saute until almost tender, then add garlic and ginger, stirring until fragrant.
Add curry powder and stir for one minute.
Add lentils and stir, then add stock and bring to a boil.
Reduce heat to lowest setting and simmer for 20 to 45 minutes, until lentils are very soft, adding more stock if necessary. Watch carefully and stir, so it doesn't burn on the bottom. Lentils should be mushy.
Add salt and pepper and cilantro,if using, and enjoy.
To serve as a soup add additional stock and other cooked vegetables such as peas and carrots. Cooked chicken may also be added.