Dakota's Crab, Tuna & Egg Salad
Parsley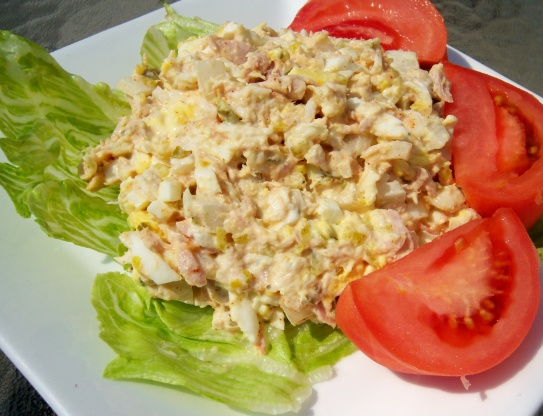 Recipe by Thea
Another recipe from real cajun recipes. Submitted by Dakota Delcambre...she writes the following;Most Cajuns follow the tradition of not eating meat on Friday during the Lenton season. This recipe would be great for Lent. Donald writes - Dakato is the great grandson of Isadore Delcambre, This is my son, 8 yr-old Dakota's 1st easy to make lunch recipe. This salad should be served on your favorite sandwich bread along with your favorite extras: lettuce, cheese, etc... Dakota experienced his first crawfish-boil in Washington! (You should have seen him and his siblings). Master Dakota - you make us Cajuns proud.

Was throwing something together for NYE day lunch, realized last minute that I was out of tuna, subbed a can of white meat chicken with two cans lump meat crab on hand. Still plan to make this again with tuna. Used most of other ingredients listed plus Old Bay, half a jalapeño and yellow onion diced and horseradish mustard. Hubby and I loved it on whole wheat Ritz crackers, plan to get sourdough bread to grill or toast.
Boil eggs while preparing other ingredients. Drain tuna and crab cans and mix with the remaining ingredients in a large bowl. Add the mayonnaise to your desired consistency. Add chopped onions or olives if desired. Peel and chop eggs; add to the mixture. Serve on your favorite bread with favorite fixins of potato chips, soda, tea or cold beer for adults.