Nasseh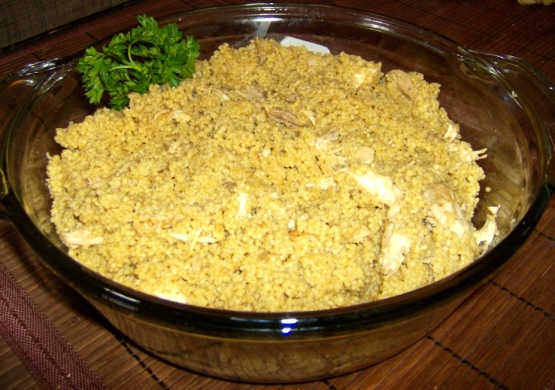 A delicious Syrian dish, be sure not to use Moroccan-style couscous, use the Lebanese or Israeli variety (which is larger). Serve with mishmishiyah (I will post the recipe soon).

Top Review by Nasseh
I was a little hesitant about this recipe at first since it is best to steam couscous & not boil it but the end result was very delicious. There were many flavors going on at once in this dish, some spicy, some sweet. If you like taste that teases your tongue then this is the recipe for you. I used half the amount of chicken & 1 cup of Moroccan couscous instead of 2 cups because of the size difference (I did not have any Lebanese-style). The other adjustments I made were adding 1/2 tsp paprika to the sauce & only 1/4 tsp of cayenne (it was still spicy enough with that amount). I also threw in 1 chicken bouillon cube & a little fresh parsley & cilantro. (I did not serve with mishmishiyah as recommended.) Made for PAC 2008
In a large pan (large enough to hold the chicken), fry the onion and garlic in the olive oil until onion becomes soft and translucent.
Put in the chicken and pour 4-1/2 cups of water (it won't be sufficient to cover). Add spices.
Cover and simmer for 1 - 1-1/2 hours so chicken is so tender it's falling off the bone, turning once halfway through.
Take out the chicken and remove skin and bones. Cut into small pieces.
Bring the sauce to a boil and add lemon juice.
Throw in the couscous. Cook for approximately 8 minutes (until tender). (you can add 1 cup of boiling water if necessary during this time)
Stir in the butter and place the chicken pieces back in the pan.
Heat through before serving.