-Mar-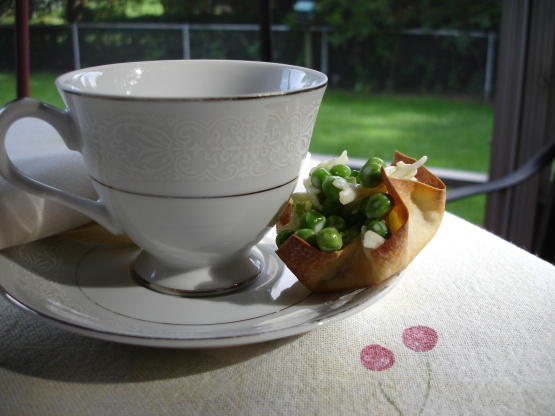 When I was visiting Granma, she took me to Willoughby House Cafe, Tearoom, and Gallery. Along with my sandwich and salad, there was a little cup filled with pea salad. They were so adorable and refreshing, I thought they'd be perfect to make for parties. Ranch dressing can be used instead of making a dressing.

Great recipe! I found the wonton cups just adorable, and the salad was very fresh tasting. Tip 1: find a cup just smaller than your muffin tin. Lay the wonton wrapper over the muffin tin and gently press it in with the bottom of the cup. My toddler's sippy cup is the perfect size. Tip 2: if you're making these ahead of time, consider brushing the inside of the cup with a little olive or other light tasting oil - the oil will help stop the water in the dressing from soaking into the shell and making it soggy. Tip 3: an ice cream scoop is the perfect size for easy dishing the salad into the wonton cups quickly.
To make the dresing: Combine mayonnaise with next 7 ingredients in a small bowl. Refrigerate 1-2 hours. Makes approximately 1/2 cup.
Preheat oven to 325.
Place one wonton wrappers in each cup of a regular muffin pan. The wrappers should be a bit bunched up to form sides. Keep an eye on them the first couple of minutes in to make sure that the sides don't collapse.
Bake for 10 minutes or until golden.
Remove and cool.
While baking cups, prepare salad. Combine thawed peas, chopped celery, and cheese in a bowl. Mix in 1/4 cup of dressing.
To serve, spoon a heaping spoonful of the salad into prepared wonton cups.