Pumpkie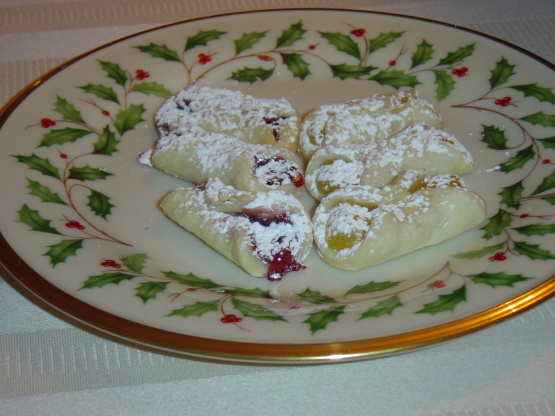 Decadent little morsels of fruit-filled pastry, these cookies are a bit tedious but worth it.

Made these for Christmas. I used good rasberry preserves. I chilled the dough before rolling as it was a little softer than I'm comfortable working with. These were just wonderful. Dissapeared fast. I'll be making them again. These are really like tiny empanadas. I'm tempted to try them filled with lightly sweetened yam and pineapple. Thanks for a great recipe. Dang they're good!
Cream butter and cream cheese.
Mix in flour until well blended. Chill dough before rolling.
Roll out dough to 1/8" thickness on lightly floured surface.
Cut into 2-inch rounds.
Spoon a small amount of preserves onto center of circle and fold two sides of circle towards middle, overlapping edges in center (bottom should form a point and top should be open to reveal filling).
Place on baking sheet and bake at 375° F for about 15 minutes, but do not overbake.
Cool cookies and drench entire cookie in powdered sugar.