Dad's Summertime Fruit Salad
Prep 30 mins
Cook 30 mins
My dad love to invent new things. I don't know if he made this up himself or someone told him....nevertheless, it is really wonderful. Over the years, I tweaked this to a more healthy style (he used sour cream and sugar).
Directions
There should be more fruit than dressing.
Choose any other types of fruit as they come into season.
* Open and slice banana last to maintain its' color.
Combine yogurt, cottage cheese, and sugar substitute.
Season lightly with salt and pepper.
Add all fruits, nuts, and toss gently to coat.
Do not break down the fruit.
Chill at least 1/2 hour.
Serve.
Reviews
Most Helpful
Nice salad. Thank you!

Fruit and cottage cheese go very well together, so I was not surprised that I enjoyed this so much. Had it for dinner on a hot summer day along with a no-cook bean salad. Instead of the walnuts I used a handful of mixed nuts (as that was what I had on hand) and a low fat cottage cheese instead of fat-free. I used a sugar substitute myself because some people just don't want the extra carbs or calories! Also I thought the salt and pepper enhanced the flavor nicely. I will try making this again with pineapple (fresh or canned unsweetened) since I think it's a fruit that goes particularly well with cottage cheese. Thanks Happy Harry for a great recipe!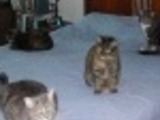 Absolutel wonderful but how could you substitute for sugar? The crunch with the strawberries is THE thing and proper yogurt just makes all the difference. After all provided you don't over do it natural is the way to go