Nimz1466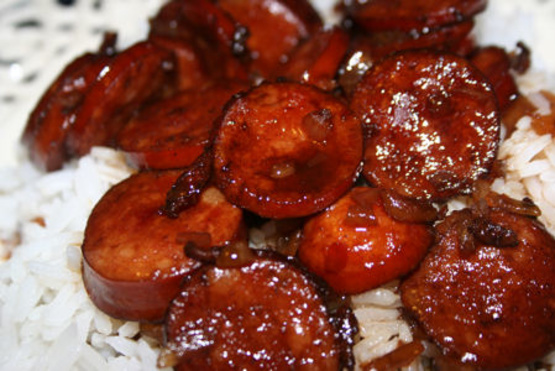 This is a simple dinner my husband came up with when I was on bed rest. It is now his "signature dish" and the whole family loves it! Even better the next day!

Wonderful dinner! I have made this several times already but kept forgetting to say thanks! for a great recipe. I did however cut the brown sugar to 1/2 cup as suggested by fellow recipezaarians. This time I am putting it with egg noodles. Thanks!
In a large skillet saute onion until translucent.
Add Worcestershire sauce, balsamic vinegar, water, and brown sugar. Stir until sugar dissolves.
Add Kielbasa.
Cover and simmer for about 30 minutes, stirring occasionally.
Mix the 1/4 cup cold water with the 1 tablespoon of corn starch in a small glass until smooth.
Add cornstarch mixture to the skillet, stir well and remove from heat. Sauce will thicken as it stands.
Serve over pasta or as an appetizer with toothpicks.