MsSally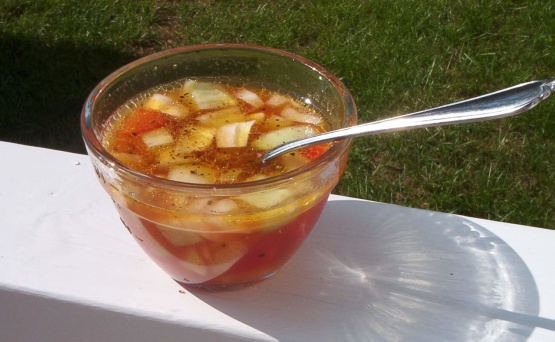 We like ours a little chunkier and not as pureed as most - so bear that in mind as you prepare this summer treat!!! An easy dish to whip up for any size group - just increase ingredients proportionately. I grew up eating this - my Dad made it ALL the time for many occassions!! Thanks, Dad!!! ****Cook time is CHILL time. ;) On a side note - a little splash of white wine added to this doesn't hurt if you are of a mind to do so - we generally do!
Add equal parts V-8 juice and chicken broth to crushed garlic clove in a large pan (no heat.
Add in olive oil, onions and green peppers.
Chop seeded tomatoes and cucumbers to desired size (or use food processor) and add to pan.
Salt and pepper to taste.
Add a dash or two of tabasco for flavor.
Chill for at least 30 minutes, 2 hours or more are better for flavors to kick in!
Serve with french bread, brie and pate` if available.
Enjoy!