Dad's Favorite Snickerdoodles
BecR2400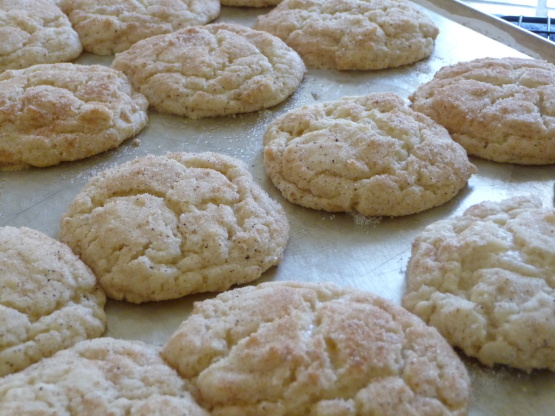 My Dad insists on Snickerdoodles every year for Father's Day, his birthday, the holidays- any excuse he can think of to get me to make these!! My hubby and kids don't mind them either!! I make my version of this Betty Crocker recipe.:) Great for gifting friends too! I don't use self-rising flour ever on these, but included the info in case someone did in the ingredients. I DO add extra flour when needed if the consistency of the cookies aren't what I want- more flour makes them "fluffier". Adjust accordingly each time you make based on your personal taste!

Snickerdoodles are one of my all-time favorite cookies, and these do not disappoint.:) I too used butter in place of margarine, as that is what I have on hand. The shortening (I used butter flavor Crisco) and butter combination is perfect and gives these cookies such a wonderful texture--soft and crispy and chewy all at the same time. YUM! Thanks so much for sharing, Mommy Diva! Made for Cook-A-Thon 4 Mommy Diva, January 2012! FIGHT LIKE A GIRL!
Heat oven to 400 degrees.
In small bowl, combine 2 tablespoons of sugar and 1 tablespoon cinnamon for topping mix. Set aside.
In large mixing bowl, combine 1 1/2 cups sugar, the margarine, shortening, vanilla and eggs. I find the texture of the cookies best if I stick to this margarine/shortening ratio.
Sift together flour, cream of tartar, baking soda and salt.
Mix thoroughly into wet mixture (eggs/butter, etc).
Shape into balls- I usually make a heaping teaspoonful-depends on your preference.
Roll tops of balls into sugar/cinnamon mixture to coat.
Place approximately 2 inches apart on an ungreased cookie sheet and bake 8-10 minutes until set.
Remove cookies immediately from sheet to rack to cool.
TIP- I find best results also when I refrigerate the dough/balls between batches until they are baked. This keeps them from spreading out as much.
ENJOY! ;).