Dad's Famous Shrimp Cocktail
Brenda.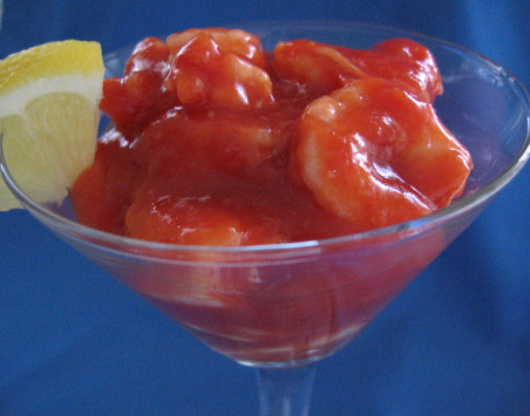 My father's mouthwatering recipe for "in the sauce" shrimp cocktail.

Please tell Dad he has another fan! This is so easy to make and tastes fresh and light. The sauce alone will replace bottled sauce for us in the future. Now... to hide the rest from DH and DS ;) Thanks for sharing this recipe. *Made for PAC Spring 2010*
LINE a colander with paper towels; place in kitchen sink.
PLACE chilled, pre-cooked, shelled and deveined SHRIMP into paper-lined colander and allow to drain.
WHISK all SAUCE ingredients in a medium bowl.
ADD drained SHRIMP to sauce, tossing well.
CHILL shrimp cocktail, covered in refrigerator between 1-2 hours.
FILL individual cocktail glasses or wide champagne glasses with shrimp cocktail.
GARNISH each serving with a sprig of fresh parsley.
ADD a fresh lemon wedge to the rim of glass.
SERVE on a small plate (I include both a small fork and spoon!).
START SHOVELING and enjoy!