Dad's Divine Chicken Divan
BecR2400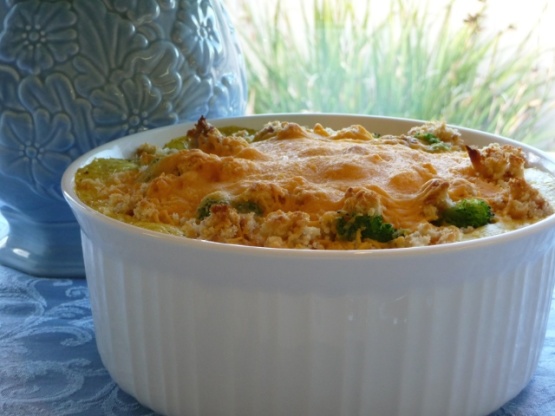 Our family favorite chicken divan recipe! I've been making this yummy recipe for years. We really love the touch of lemon and curry-- it's simply divine!!! Make mine with extra cheese, please. May use chicken or leftover turkey. Serve over hot cooked rice. Recipe is originally from my father, but I've tweaked it to suit my family's tastes. I hope you enjoy!

This was easy to make. I did not have any cream soups on hand so I made my own homemade version. Everyone seemed to like it. My daughter said it was good but tasted like mayo. I can't say because I am on nutrisystem so I did not have any.
2

boneless skinless chicken breasts, cooked and broken into thin strips (or leftover turkey)

1

(10 3/4 ounce) can cream of chicken soup
1⁄2 cup mayonnaise

2

tablespoons lemon juice
1⁄2-1 teaspoon curry powder, to taste (we like a mix of mild and madras curry)

1

(10 ounce) package frozen broccoli florets, cooked al dente
1⁄4 cup torn breadcrumbs

2

tablespoons melted butter
1⁄2 cup shredded cheddar cheese (or more!)
freshly cooked rice, to serve
Preheat oven to 350 degrees F.
Butter a 1 1/2-quart baking dish.
Combine cream of chicken soup, mayonnaise, lemon juice, and curry powder in a small bowl.
Arrange broccoli in a single layer in the buttered dish, reserving a few florets for the top.
Cover with chicken strips.
Pour soup mixture evenly over chicken and broccoli.
Sprinkle with bread crumbs and melted butter, dot with a few broccoli florets, and sprinkle cheese over the top.
Bake until heated through, about 25 minutes.
Serve over rice.