twissis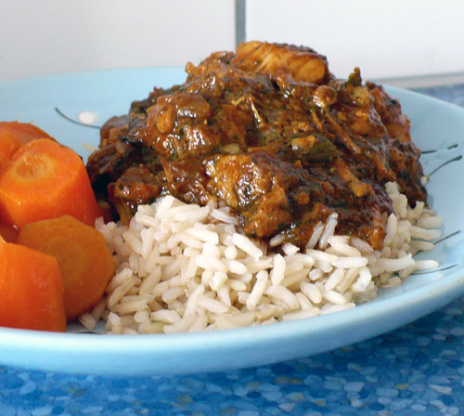 Curry, you can use chicken thighs, cubed pork or anything else you desire. My wife and kids (aged 3 and 6) love this and we are not Indian. You can make it mild to hot but make lots because it goes fast!

Made for Spring PAC 2013 - I used a combo of cubed chicken breast & cubed pork, made the recipe exactly as written except for the use of dried cilantro vs fresh & served it over brown rice w/carrot chunks on the side. DH & I agreed the combo of spices was outstanding. But as the cook, arriving at perfection was a bit bumpy. The meat I used was very lean, but the finished product seemed to have an excess of butter on the surface of the sauce so I?ll reduce the amt of butter next time. Given the amt of chicken & pork used, a 10 oz can of soup is just not enough liquid to braise (simmer) the meat for 90 minutes. Maybe I should have assumed the solution ahead of time, but I found it necessary to start adding water early on to keep the curry from burning. I am sure I added an equal amt of water (10 oz) & my point is it would be helpful if the recipe included that info. Your Dad makes excellent curry, Sean. Thx for sharing the recipe w/us.
Melt butter in large pot.
Add green onions, green pepper, ginger, cilantro and stir for 10 minutes over medium heat.
Then add salt, turmeric, curry powder (mild -hot, it's your call!), red pepper (cayenne).
After about 5 minutes (before the butter rises).
Add masala (garam masala works well), and tomato soup.
Cook sloooowly for 10 minutes and add chicken thighs (cut in half is best, whole is fine too!) or 3+ cups of cubed pork butt (make sure the pork has some fat in it or it will dry out).
Simmer for 1 1/2 hours on top of stove!
Serve over basmati rice.