Karen..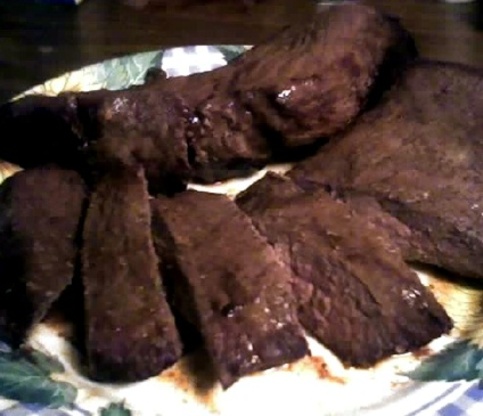 My dad made this one day, and it's definitely a winner! Everyone who has tried this marinade loves it! My husband and I won't eat steak any other way. The amount of ingredients listed is just a very rough estimate. I usually don't measure, just pour!
After a lot of mishaps with tri-tip, I obtained a Jaccard (mechanical meat tenderizer) and marinated it in this recipe. This is the best marinade I've ever tasted. The meat was cut-it-with-a-fork tender, and the subtle smokiness was perfect. Juicy and flavorful. I seared both sides, then baked it at 350F until the internal temp was 140. Awesome recipe!
Sprinkle salt, pepper, and garlic powder on one side of each steak and then pour 1/2 tsp olive oil on each steak.
Knead spices and oil into the steaks.
Repeat on opposite sides.
Put steaks in a bowl (I usually use a glass flat baking dish for best results).
Add remaining ingredients.
Marinate for at least 30 minutes! The longer, the better!