" Da Best" Chicago-Style Italian Beef
Ycooks2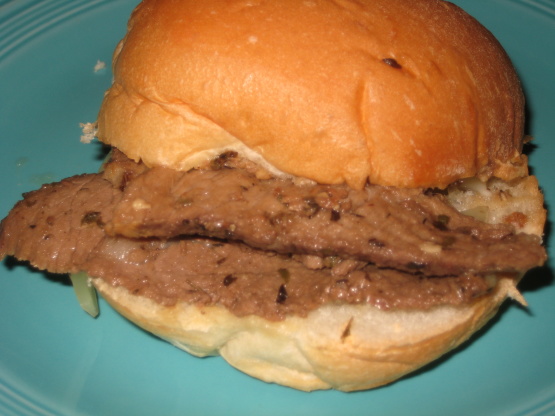 Tender, garlicky and full of oregano 'n stuff! Start this one a day ahead; the beef slices need an overnight stay in da gravy to be at their best. And please don't overcook the roast! As it rests right out of the oven and as it's reheated it'll stop mooing! Serve on crusty Italian sandwich rolls; add sauteed peppers if you like, but too much more and it starts looking like a Philly steak 'n cheese, a whole other beast. Prep time includes overnight marinating.

As you might be able to tell from my name, I'm a big fan of Chicago food and this beef was delicious. You do need access to a slicer to get the beef sliced good and thin. If you've got a relationhip with your butcher or deli, maybe they'll slice it for you (especially if you're willing to share some beef). Double the gravy- you won't regret it if you like to pour it on. I inserted 12 garlic cloves into my roast before roasting and they sliced up with the beef. I've made this twice now, and it is the only Italian beef I'll ever make.
Preheat oven to 325°F.
Sprinkle the roast with garlic powder, oregano and pepper, then cook roast, uncovered, in a shallow roasting pan, about 30 minutes per pound.
Roast will be very rare-- don't overcook it!
Let cool slightly, then thinly slice.
Add to the roast's pan drippings: the boiling water, bouillon cubes, oregano, thyme, pepper, Tabasco sauce, garlic and Worcestershire sauce.
Simmer for 20 minutes, scraping up the browned bits.
Taste for salt and add some if you wish.
Add the sliced beef; cover and marinate in da gravy overnight.
Reheat the next day and serve in crusty Italian sandwich rolls.