Czech-Style Farmer Cheese, Bacon & Noodle Bake
karen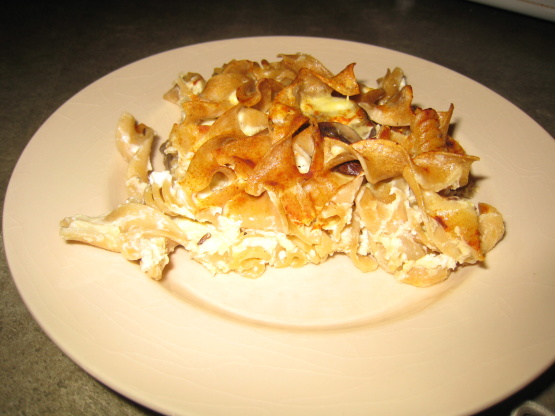 I'm on record as loving all things Czech (a legacy from my great-uncle Emil Placek). This recipe by Grete Willinsky from her "Kochbuch Der Buchergilde" was modified slightly by me, but will likely keep my record intact. This can be used as a side dish or paired w/a salad choice for a tasty & hearty meal. *ENJOY* ... Edited to Add: I agree w/the reviewer that the layering part of the prep is not necessary & have revised this recipe accordingly. :-)

Top Review by karen
I was excited about this recipe because it reminded me of a savory Jewish noodle kugel and I LOVE farmer's cheese...and finally found a store that stocks it all the time. But, I found this not creamy enough. If just felt like there wasn't enough of the cheese/sour cream/egg mixture. I did make one change, eliminating the bacon and substituting grilled mushrooms, but that shouldn't have made a difference. I also used whole wheat noodles. Next time I would add more sour cream and stir it all together rather than layering it. I did love the caraway seeds and would never had thought of adding them!
1⁄2 lb egg noodles

1

tablespoon olive oil
3⁄4 lb farmer cheese (may sub dry curd cottage cheese)

1

cup sour cream

1

teaspoon caraway seed
salt & pepper (to taste)

4

slices bacon (thick-sliced & diced or use 6-8 std slices bacon)

1

onion (finely chopped)

1

tablespoon butter (for baking dish or use PAM as desired)

3

eggs
paprika (to dust surface of finished dish)
Preheat oven to 350°F (180°C).
Boil egg noodles in salted water till done, drain in a colander, rinse w/cold water, drain again & add 1 tbsp olive oil. Mix well & set aside in a bowl.
Pass farmer cheese (or dry curd cottage cheese if using) thru a fine sieve. Stir in 1/3 cup sour cream + caraway seed & season w/salt & pepper. Add this mixture to the noodles & stir to combine.
Fry diced bacon in a skillet w/the onion till the bacon is crisp. Add bacon & onion to the noodle & cheese mixture & stir to combine.
Grease a deep ovenproof dish w/butter (or use PAM as desired). Place noodles, cheese mixture, bacon & onion in the baking dish.
Whisk eggs w/remaining 2/3 cup sour cream & pour this mixture evenly over the contents of the baking dish. Dust surface lightly w/paprika.
Bake for approx 45 min or till the top is browned & mixture tests done using the knife method. Allow to cool for 5 min & serve immediately.
NOTE: Serves 4 as a main-dish or 6 as a side-dish.